19 Feb

Welding Works: Introducing Our Latest Career Track!

Over the years, our employment programs have evolved to ensure the Men in Blue not only place their foot on the first rung of the economic ladder, but steadily ascend.

"With unemployment at record lows, the workplace has become increasingly competitive and our graduates have found themselves in jobs that don't pay enough to truly rise out of poverty and support a family," according to Jen Dillon, our Vice President of Workforce Development. "That's why The Doe Fund has begun pursuing industry-specific training in high-demand, specialized fields."

One of the newest—and most promising—is in the field of welding. And ten minutes away from our Peter Jay Sharp Center for Opportunity residence in Bushwick, we found the ideal partner: Total Metal Resource, a custom metalwork and welding company.

Scott Behr, the owner, has been fascinated by metalworking since he was a child. His passion led him to Atlanta College of Art to study sculpting. "The school had a foundry, band saws, blacksmithing equipment, torches to cut metal, plasma cutters," Scott told us. "I felt like a kid in a candy shop."

Scott founded his own studio, Total Metal Resource, in 2008. In the eleven years since, his studio's flair for custom style has brought major attention; he will be featured in an article in The New York Times's Design section mid-March, where he was commissioned to design and build a light-switch cover plate… with his only direction was that it had to feature a black cat.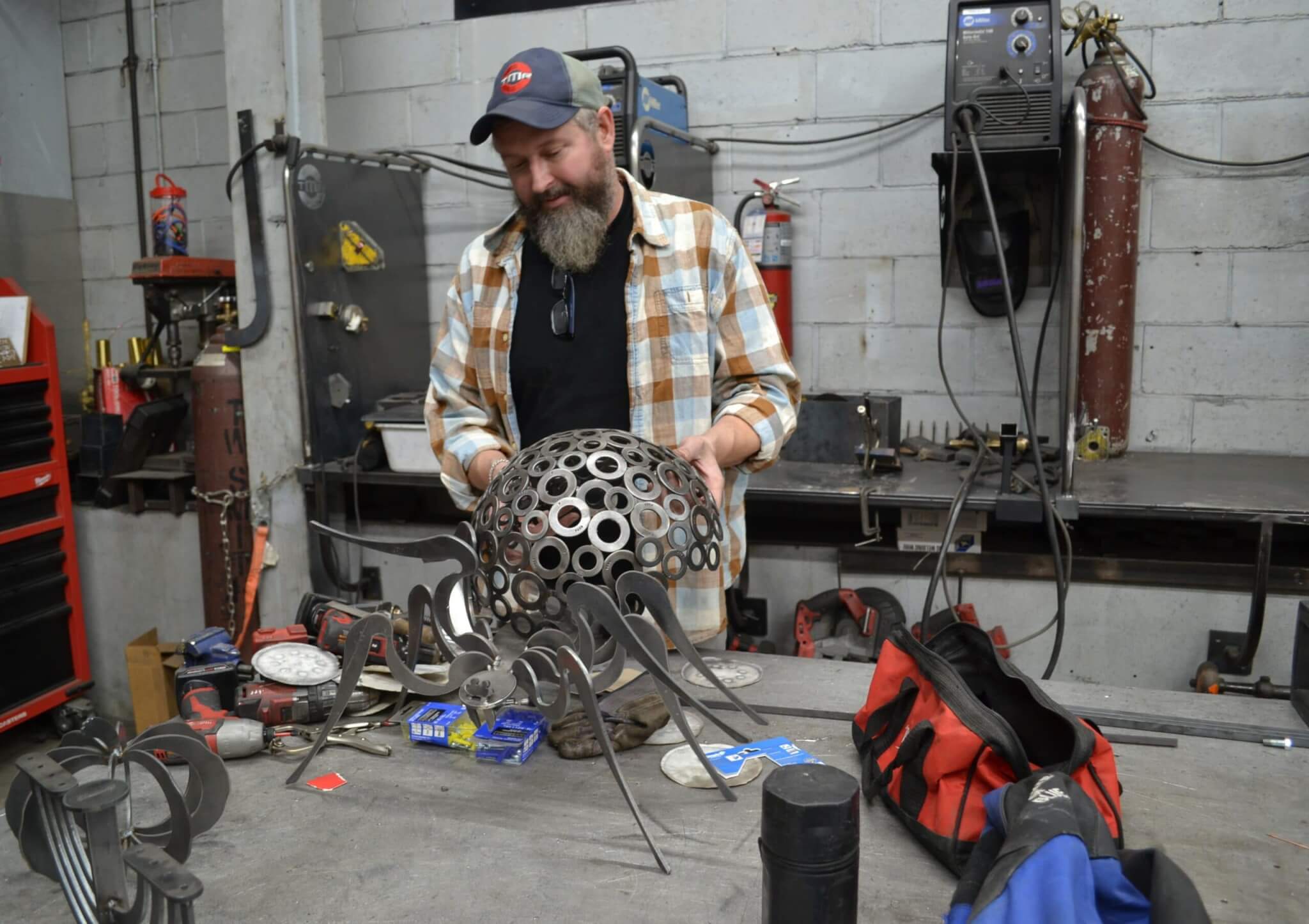 Over the years, he heard friends and customers talk about their own fascination with shaping metal.  Scott came up with an idea to quickly teach people how to fabricate and weld through building a steel cube. He and his partner Lauren decided to use the shop as a studio where the public could learn welding through four-hour intro courses. Soon after, they launched Metal Shop Fantasy Camp, which covers the fundamentals of welding, finishing, and blacksmithing. To date, they've had over 4,000 students.
Scott met Jen Dillon at an employment event hosted by the Brooklyn Chamber of Commerce. Jen immediately saw an opportunity for Ready, Willing & Able participants to enter a new field that is secure, in high-demand, and lucrative. Scott saw a chance to give back.
"Look at the community we're in," said Lauren. "It's a big urban space with a lot of different socioeconomic backgrounds and people from all walks of life. We're part of this community. And we need to give back to this community. We live here, we want to see the people who live here working and contributing to this community too."
Though the welding partnership is in its early stages, its ultimate goal is to provide Ready, Willing & Able participants with high-level training and AWS certification—a crucial first step for obtaining welding licenses.
The field presents an incredible opportunity for our trainees, with high potential for upward mobility. "There's going to be a shortage of 440,000 welders within the next 10 years if things keep going the way they have," Scott said. "And as an architectural metal company, one of our hardest challenges is finding qualified welders who show up on time and are easy to work with."
What Scott likes most about teaching is seeing the look of accomplishment on his student's faces when they complete their project, whether it's a cube, a bowl, or more complex metalwork.
"Seeing that happen to someone who's getting back into the workforce is incredible," Scott said. "And for them to go on a job interview with both their resume and the metal cube they made and show a potential employer this is what I can do, that would be such a huge advantage to have."
"It's a powerful thing to see," Lauren added, "when someone realizes they can shape metal into whatever they want it to be and realize, 'Oh my god, I can make something with my hands… and I can make a good living at it.'"
The Doe Fund's mission is to break the cycles of poverty, homelessness and recidivism; providing a lucrative career path is the most surefire way to do so. From the beginning, we've given Ready, Willing & Able graduates the skills and training to find lifelong financial security. We're so excited for welding to join our growing portfolio of career tracks—and we couldn't have found better partners than Scott and Lauren.