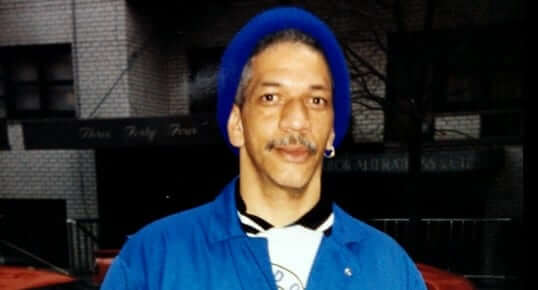 16 Jan

From the Archives: Nazerine's Journey

To commemorate the 30th anniversary of our flagship program, Ready, Willing & Able, we're proud to announce our new From the Archives series. Join us as we dive deep into The Doe Fund's history to celebrate RWA's three decades of impact—and the inspirational stories of the Men in Blue who have proven its success.     
---
In 1999, Nazerine Griffin took the stage at our annual gala. Thanks to Ready, Willing & Able, he had a job, a home, and was five years sober after struggling with addiction his entire life.
Naz's 25-year career with The Doe Fund since has seen him rise from a trainee to managing our Harlem transitional housing residence, overseeing our regional replications of Ready, Willing & Able in Philadelphia and Atlanta, and currently serving as Facility Director of the Peter Jay Sharp Center for Opportunity.
This fall—twenty years after he first stepped on the gala stage—Naz won the Citizens Against Recidivism Award for his work with The Doe Fund. Today, his leadership is an invaluable part of our past, present, and future. Read his speech from our 1999 gala below.
 "Good evening, ladies and gentlemen. I'm honored to speak to you tonight. Tonight I'm here to tell my story, to tell you about why The Doe Fund works, and to thank those people who helped me get where I am today.
I was brought up well by my parents. They were no strangers to adversity—my father was black, my mother Italian, and they met and married during World War II. They always loved me no matter what I did, and worked hard to provide me with better opportunities than they had.
Those included educational opportunities, including private schools… which is unfortunately where I found out I was "different." It wasn't the other children who said this to me, though. It was their parents, who let me know I was different when they told me I wasn't allowed to play with their sons or go out with their daughters because of the color of my skin.
So I reacted by rebelling, looking for ways to be different from my parents. If the world was telling me I was different, I thought, my only choice was to embrace it. At 15, I started smoking pot. I started using cocaine at 19, then found heroin to bring me down from cocaine.
For a while, I was a functioning addict; I held down jobs and lead a pretty normal life. But eventually I began dealing drugs so I could use them, and slowly dealt less and used more and more. By 28, my life was just using.
I was a thief. A bum. A parasite. I started preying on society. I robbed three banks to support my addiction. In 1993, at 38, I took my first hit of crack. From there, it wasn't long before I was homeless. I became a zombie, afraid to leave the block for fear of I losing a package of crack.
By then, all I wanted to do was go to work—to have a normal, steady job. I remember hiding my crack under a car after selling all night long, then watching people get up and go to work on the subway and thinking, "I wish that were me."
I knew I was dying. I weighed 120 pounds and was so sick I couldn't even get up to go get the drugs. On October 4, 1994, I mustered all the strength I had left within me to check myself into the emergency room.
The following six days of detox were the sickest I've felt my entire life. My body was punishing me for all of the drugs.
After detox, I went into a therapeutic community. I cried myself to sleep every night; I was 39 years old and I knew I had wasted my life. The people there spent all day telling me how horrible I was, and tearing me down wasn't what I needed. But it introduced to the 12 step program and the disease of addiction. I started learning how to stay clean… but I still couldn't see a way to get my life started again. My despair became all-encompassing.
Just when it seemed like there was no way out, Willie Pearson, who was a Ready, Willing & Able trainee at the time, told me about the program. The next day, I packed my bags and came to Gates Avenue in Brooklyn to join.
One of my first cleaning routes as a Man in Blue was on 84th street during the blizzard of 1995. I was one year clean and sweeping in front of George and Harriet McDonald's house. To this day, one of my fondest memories is when Harriet came out of the house to speak with me in the midst of the blizzard. She was so kind and loving—and more importantly, she treated me like a person. You have no idea what that feels like after years of feeling invisible, unwanted by society.
One day, Al Johnson, who was the director at Gates at the time, approached me. He needed someone to put systems in place at our Harlem residence to keep track of who was going to work, and to manage a staff of 50. I believe that God speaks through people, so I took the job working for The Doe Fund and haven't looked back since.
Now, I'm the Director of the Brooklyn program. My job isn't work. At least, I don't see it that way—I see it as an opportunity to help others and give back what was given to me. Nothing gives me more pleasure now than seeing people who suffered like I did blossom and take back their lives.
I am Ready, Willing & Able: a straight-up product who worked my way up through every phase of this program, from cleaning streets to being the first client to ever become a program director.
I want you to know that this program saved my life, because it gave me the gift of opportunity. It gives an opportunity to people who don't have many, who never have had many; if you're a single black man, homeless and finally off drugs, there aren't many people who will give you a chance.
The Doe Fund gives you that chance. It gives you respect, a key to your own room, a paying job to go to everyday where you can earn your own money, meetings to go to, a staff that supports you and really cares. The Doe Fund trusts that you can change your life, and believes and has faith in people that everyone else has given up on. They tell you if you work really hard, you can start your life all over again… and I am proof that it works!
All the things I have today are because of this program. I have been blessed to have two lives in one lifetime. I want to thank George, for his vision of seeing what people can be; Harriet, for her genuine love and for being the heart of this program, Al, for being a friend and mentor; and finally, all of you for listening to me tonight, for your generosity and for believing that The Doe Fund really does work. Thank you."