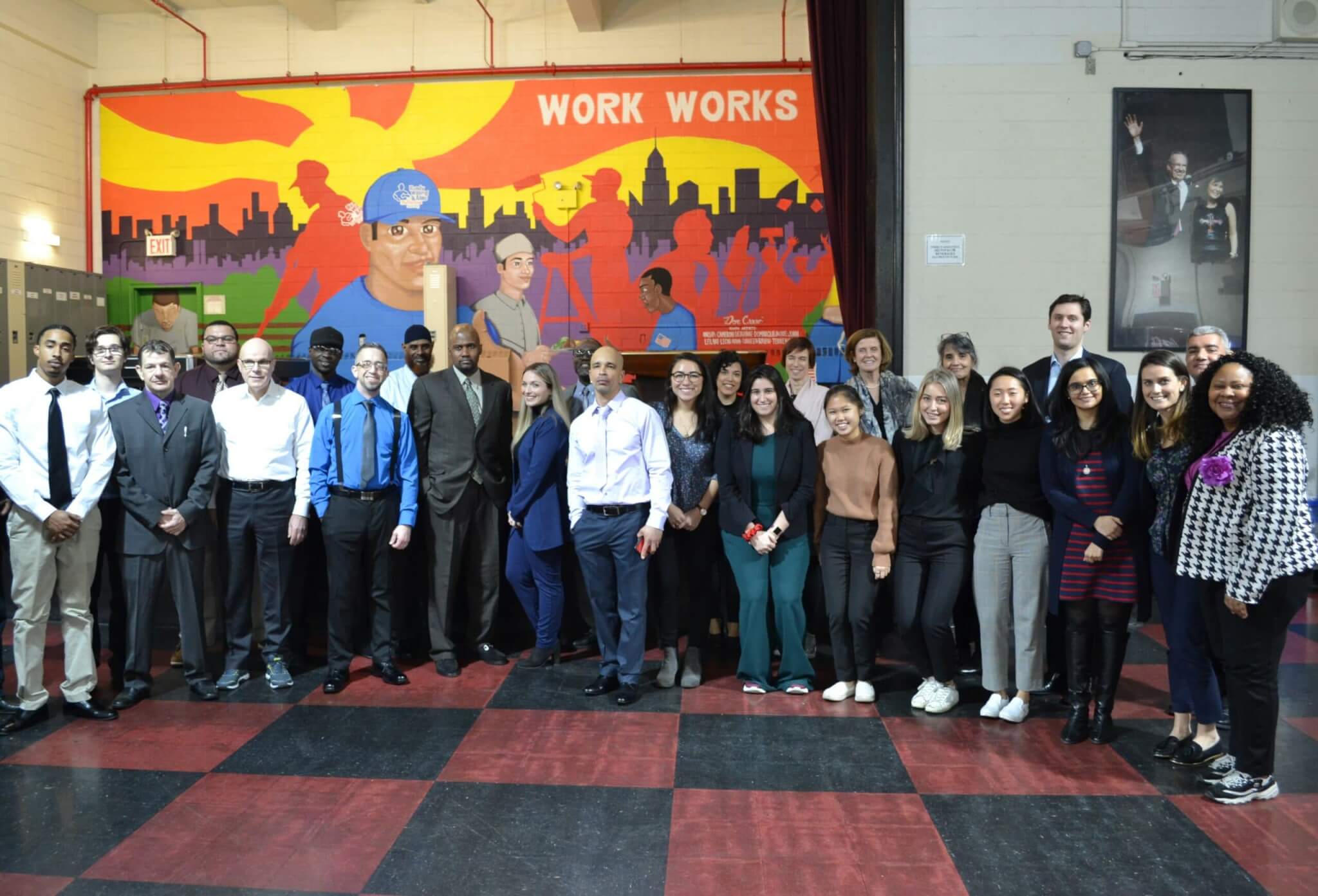 18 Feb

Voices From Our Community: HSBC

Most people know that we offer the Men in Blue training in a number of profitable career tracks. But what they don't often realize is that our year-long Career Success Strategies program prepares trainees for every aspect of reentering the workforce, from computer literacy courses to resume-writing workshops. 

Perhaps the most important, yet daunting, part of the process is the interview—especially for men who have experienced the detrimental effects homelessness and incarceration have on one's self-esteem. So a crucial part of the program is regular mock interviews, which emulate the experience in a safe environment, give participants an opportunity to practice their training, and provide valuable feedback.

On February 5th, corporate volunteers from our partners at HSBC conducted the latest round of mock interviews. That night, we spoke to volunteer team co-captains, Jane Singleton and Katelyn Hannington, about their experiences working with the men of Ready, Willing & Able.

What inspired you to volunteer with The Doe Fund?

Jane: I'm passionate about education, and in my background many years ago I was a teacher. So doing this was an example of helping people at the end of their training. I volunteered with The Doe Fund a few times over a number of years, and every time was just this fantastic experience. I hadn't seen The Doe Fund on our list of volunteer events at work. So I thought, 'Well Jane, if you want to volunteer there, you'll have to set it up yourself.' So I reached out to and set up a team at HSBC to come to these interviews.

Katelyn: This was something I liked because I could feel the personal impact. There are different volunteering projects I've done—packing food, for example—where you don't see the outcome, and it's just not the same. I love seeing that face-to-face impact you make when you give people feedback and when you speak to people about their real life experiences.

Tell us about the experience conducting mock interviews with the Men in Blue. What is it like working with our trainees face-to-face?

Jane: It's a bit stressful to be honest! I'm nervous before I start. I want to make sure I'm asking good questions so the candidate—your guys—can show their best selves. And as an interviewer, you're constantly trying to evaluate, get information, think of your next question, and form an opinion so I can give really good, positive feedback so they can improve.

Katelyn: I'm excited for them! We've all been at decision points in our lives and careers. We've all made mistakes in our pasts. But these men have decided to reset, and this is a great place to hone good skills, get training, and restore confidence. It so often comes down to confidence. 

And I like when people are able to be vulnerable in my interviews. To be able to say, 'I've made mistakes, but I'm here and I'm making changes.' Even just admitting you're nervous—some interviewers mind that, but I don't at all. It's human to show vulnerability. I like hearing real-life experiences to understand why they're here. And see how they've shifted and learned from those experiences, and why. Tonight someone gave me a real life story about a low point in their life, and how that inspired him to pivot to really make changes. These guys have so many good things to say about themselves, which speaks to this program. 

Jane: Sometimes I get lost in the conversation with these candidates because the good training that they've had comes through. They can speak so thoughtfully about their experiences, their strengths, their weaknesses, and I can tell they've been prepped well. It's such a great experience to get lost in the conversation with them.

What is the biggest piece of advice you have for Ready, Willing & Able participants?

Katelyn: Make the most out of the interpersonal skills you learn here. There aren't a lot of places that you can come to reset, to learn patience, to live with other people… these skills are so valuable in the workplace and there aren't many opportunities to learn them. Make the most of the soft skills you learn at The Doe Fund, because those are the skills that will bring everything else together.

Jane: When I give feedback, I always ask whether the candidates have any questions for me. Sometimes the guys don't have anything to ask, but tonight they had some really thoughtful questions for me. From my perspective, when someone asks questions, it shows that they're engaged and that they're really interested in the job, so tonight was a really positive experience.

What do you think of their job readiness?

Jane: There were really good answers tonight, which I think speaks to how well your programs prepare them. I asked one candidate tonight what he considers to be his strengths and weaknesses. He gave a very succinct strength and went on to expand why it was a strength. Not only did he answer the question but he expanded on it without going off topic. It was a really impressive answer.

Katelyn: The skills they've learned are to accept and deal with their histories, and understand this is what I need to do to carry on. It's very impressive. I remember one mock interview I did a year or so ago, and this man was listing all the courses he was taking through The Doe Fund. That's fantastic, because not only do these courses equip them with the skills they need to articulate their strengths, but taking advantage of them shows determination and willingness.